Why Would I Need Artificial Grass In Vancouver?
That's a fair question, and there are several good answers.
If you've ever struggled to grow, cut, water or maintain your lawn or other grassy area, this may be the best way to solve your headaches: for good.
Even though much of the Lower Mainland can grow sufficient lengths of grass, it still doesn't mean maintaining and keeping it healthy is an easy task.
When everyone else's grass is yellowing and turning crispy in summer, with artificial turf, yours will remain lush green and full looking.
When everyone else's lawn is short, dead and watered down from another winter, yours will be healthy and totally cared for.
What's more, the number of hours you'll save over the remainder of your 'lawn-care days' will number in the thousands. No longer will you need to consistently water, fertilize, cut and otherwise maintain your grass!
Imagine how gratifying it'll feel not to have to get out every week to mow and care for your lawn.
And this is why so many people are turning to artificial grass for their home and business in Vancouver.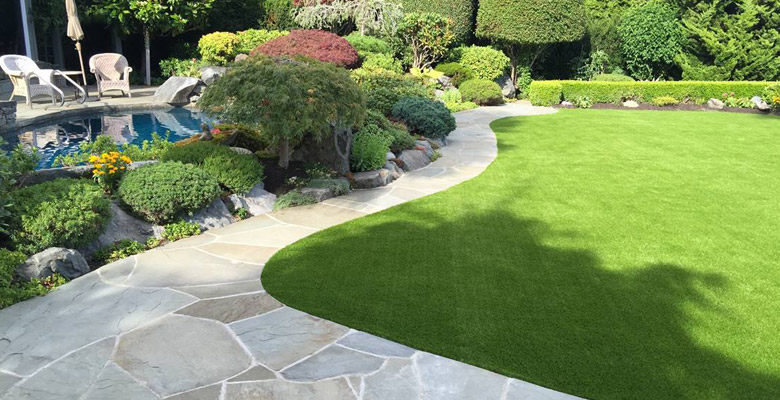 FG Lawn's Very 'Personal' Artificial Turf Policy:
If you've got any questions or concerns about artificial grass—and whether it's a good idea for your own application—feel free to ask us at any time. The FG trained staff will assess each project, give you an honest answer to improve the situation, and of course provide a no-obligation quote, should you be interested in applying new turf.
We aren't shy about giving you tips and tricks to having the most enviable grass in the neighbourhood or office block! Even after installation, we're here to field your questions and provide advice for the best care of your artificial grass.
We're personable and treat you with respect.
Ok Great, But What Kinds Of Artificial Turf Installations Can You Do?
All our work is based on improving current situations, or just fixing lawn problems once and for all. Things like:
Drainage Problems- Instead of continuing to allow water to sit on the lawn or soak into other areas of your property where it can cause cosmetic and even structural damage,  we install artificial turf to improve these situations
Pet Applications- Don't worry about your dog or other pets tracking in dirt and grass from your lawn again; it's totally safe for them and they will no longer wreck your yard!
Green Roofs and Balconies- A beautiful new trend is emerging, and it's adding grass to commercial roofs! We oversee these jobs and also apply to balconies for a refined, refreshing feel for any property
Putting Greens- For the golf enthusiast looking to improve his short game, or just for fun. We'll outfit your space with a sure-fire way to keep guests entertained and impressed!
We are experts with artificial grass and know what the best solution is for your unique situation. Just try us. Give us a call at 604-430-LAWN (5296) to get your questions answered and to receive a no-obligation quote at your property.
So while everyone else has to fuss with their grass, you'll be enjoying your time away from these unnecessary tasks. And you'll look darn good in the process!