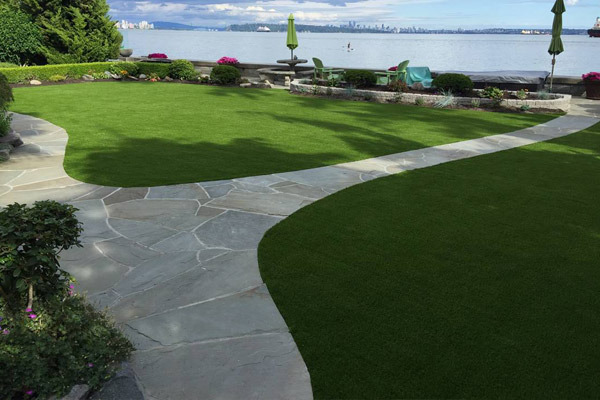 There are many benefits to switching from natural lawn to artificial grass .  The most basic reason being that there is virtually no need to water, mow, weed, fertilize or maintain your grass week after week.
Take back your weekends and spend more time with your family and friends.  Have more time to play with your pets and making the most of the outdoors.
Best of all the children will love the softness of the artificial turf when they play on it plus doesn't stain clothing!
A beautiful, lush, gorgeously green lawn dramatically increases the property value of your home. Installing synthetic grass is a great way to attract potential buyers by adding to the curb appeal of your home. Even if you are not currently in the market to sell your house, artificial lawn adds to the general appeal of your property and helps you take pride in your home.
Thanks to technological advancements over the past decade, artificial grass looks and feels real.  The manufacturing process has improved drastically giving you a soft and pleasant lawn to walk on that is perpetually green year round.
Artificial Turf for Balconies & Decks
Installing artificial grass as soft flooring for your balcony or deck is a great way to instantly add a touch of nature to your backyard.
Many people choose artificial turf to cover their concrete balconies and decks as a more comfortable and functional option for flooring. Roof top patios are ideal for artificial turf because of the low maintenance required.  Simply sweeping the turf with a stiff-fibered broom will immediately lift dirt and debris from the surface for you to easily remove.  You can even vacuum your turf.  Hosing down your turf on a regular basis will also keep it fresh, odourless and in perfect condition.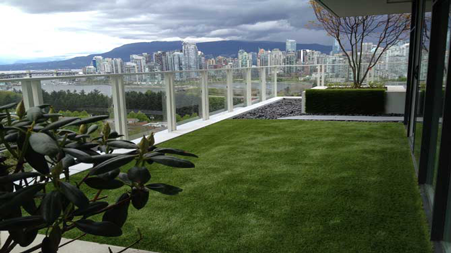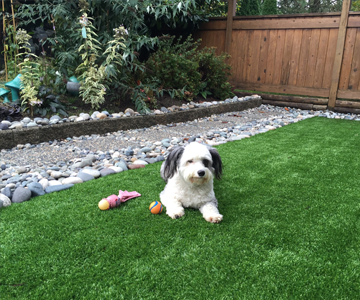 Artificial Grass & Your Pets
The people of Metro Vancouver are avid pet owners, and FG Lawns loves your pet as much as you do!
No more muddy paws bringing messes into your home.
No more bare or worn patches of grass caused by your pet.
Animals are not attracted to eating artificial turf which eliminates gastrointestinal issues that can sometimes afflict animals who are prone to grass eating.
Our AVIVA artificial grass is strong enough to withstand even the toughest dog trying to dig it up.
Artificial Grass Maintenance and Ease of Use
Deciding to switch to artificial turf will save you time, money and labour. Additionally, our Aviva turfs include an TEN year product warranty and a 3 year installation warranty(when FG Lawns does the installation) to give you peace of mind allowing you to feel even better about your choice to switch to artificial
grass.
No more mowing, fertilizing, pesticides or trimming.
Super easy cleaning.
A brush tool is all you need.
No more excessive use of water!
European Chafer Beetle and Lawn Damage
The European chafer beetle is a leading cause of lawn damage in the Vancouver lower mainland. Chafer beetles are a nuisance to homeowners as they infest lawns and attract predators such as crows, skunks, and raccoons that damage lawns as they dig for larvae. The larvae will also feed on the roots of grass, causing damage to the grass above. By replacing your natural grass with artificial grass you will no longer have to worry about this pest – WE GUARANTEE IT!
Let's Compare Natural Grass to Synthetic Grass
| | | |
| --- | --- | --- |
| Benefits | Natural Grass | Synthetic Grass |
| Eco – Friendly | Requires fertilizers, insecticides & gas operated equipment to keep it in good shape. | Very Eco-Friendly. No chemicals are needed, that harm the environment. Reduced carbon footprint. |
| Pet Friendly | Pet use causes urine patches and dug up areas. | No discolouration or digging issues. |
| Fading | Yes. Natural grass fades & dies due to poor maintenance or heat. | No. Artifcial synthetic grass is resistant to UV rays and climate changes. |
| Maintenance | Yes. A regular maintenance is re-quired to keep it up in good shape. Mowing, timing and more. | Very low maintenance. |
| Fertilizing Requirements | Yes. They might be toxic to human beings and pets. | None needed. |
| Patches | Yes. Diseases, lack of water, pets use, shady areas, traffic etc. cause patches through the grass areas. | None – always green and great to look at. |
| Allergies | Grass allergy is one of the most common and prevalent forms of allergy that  affects both people & pets. | Allergies to synthetic grass extremely low. |
| Daily Use | Natural grass allows only  moderate use to stay in good shape, especially in playgrounds & sports fields. | Unlimited use. Artificial synthetic grass is designed to resist continuous use. |
| Watering | Yes. 60-75% of water use in a household is spent in the grass areas. | No Water Required. |
| Bug & Insects like the Chaffer Beetle | Insects love natural grass and can cause grass roots to be eaten. | A non-issue |